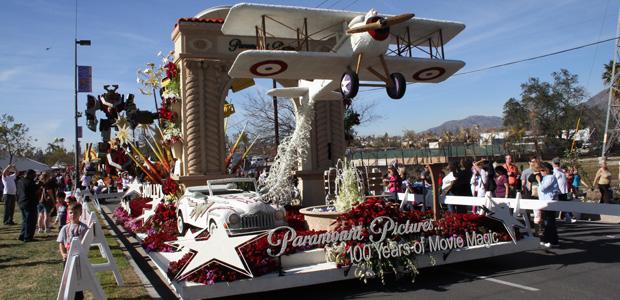 This years 123rd Rose Parade was followed by the Post Parade Float Viewing event. The Showcase of Floats was open on both the afternoon of the parade, from 1 to 5 p.m. and the following Tuesday Jan. 3 from 9 a.m. to 5 p.m. there is senior and disabled guest access on Tuesday from 7 to 9 a.m.
This year 44 floats were on display along both Washington and Sierra Madre Boulevards, requiring a two mile trek to see everything. Food, souvenir and information booths lined the route along with free water and first aid as it was a warm 85 degree day on Tuesday. Free shuttle buses provided easy access to the event.

Slideshow credit: Richard Kontas
The Rose Parade itself had a lower attendance than usual with an estimated 900,000 attending, possibly due to the rare Monday scheduling. Tradition holds that the parade will not be held on a Sunday so as to not interfere with church services.
The parade theme this year was "Just Imagine" and included numerous marching bands, more than 300 horses, and the usual multitude of colorful and elaborate floats. The 2012 Grand Marshal, retired Iraq war veteran and Dancing with the Stars Champion J.R. Martinez kicked off the event and also did the coin toss at the Rose Bowl Game after the parade. The Occupy movement had a float at the end of the parade that mainstream media didn't feature, however, their appearance went off without incident.
For more information visit: www. tournamentofroses.com